Lobster Nachos are a known appetizer selection that is highly praised resort wide. This dining selection can be found at the Cove Bar in Disney California Adventure Park. Did you know that these guys can be ordered without the lobster? Yes, to some this choice might just be profane, ordering without lobster and all. But, what about those that are vegetarian or those that are allergic to lobster?
Guests that wish to order Lobster Nachos can do so with just cheese. So in this case they would obviously just be nachos!
These nachos are scrumptious and yummy. The plate is so big that sharing these bad boys is a must. Vegetarian or not, these lobster-less nachos are a great choice. If you wish to order without lobster, please let your server know. They will be happy to let the kitchen know and prepare it to your dietary need.
As to what exactly the nachos contain, here is the complete list of ingredients listed, according to the Disneyland Resort website; "Fresh Corn Tortilla Chips, Black Beans, Pico de Gallo, Serrano Peppers, Cilantro, Chipotle Crema, and Jack and Cheddar Cheeses."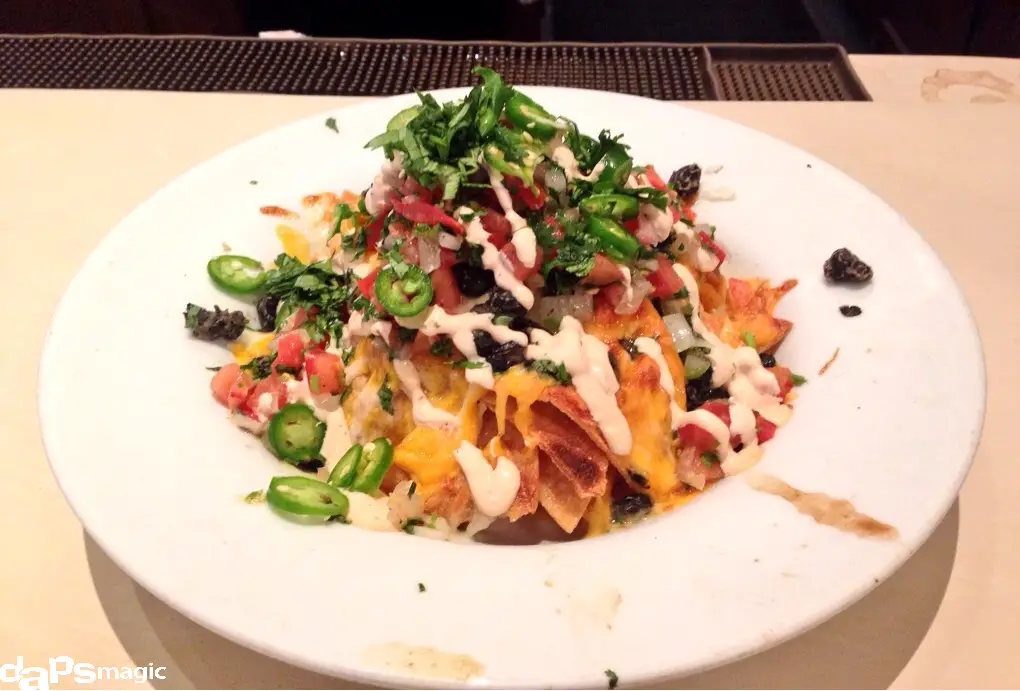 These nachos are $14.49. Annual Pass discounts are available, except on alcohol. Both alcoholic and non-alcoholic drinks are available at this location. On top of that, this location has a great view of Paradise Pier. In my opinion, getting a table around sunset is pure perfection.
Please note that this dining location closes earlier than other dining locations in the park due to World of Color. Also, during peak dining hours, wait times will be longer.
If you have any further questions about specific dietary needs or vegetarian dining at the Disneyland Resort, feel free to call Disney Dining at (714) 781-DINE or (714) 781-3463. To view the full menu of the Cove Bar, please click here.
Be sure to stay tuned to DAPs Magic as I venture through the Disneyland Resort tasting other delicious vegetarian options. You never know what may appear on my plate next.
Hope you enjoyed this meal recap. If you have any suggestions or comments, please let me know.