If you happen to be one of those eager fans patiently waiting for Disney Channel's Original Movie, "Descendants," to hit the screen, like me, here is something that will for sure make you want to see the movie even more. Before the film's story begins, did you know that there is a prequel? That's right, a story before a story. And trust me, it is a great one.
In order to prepare for the movie, the book "The Isle of the Lost" by bestselling author Melissa de la Cruz, will lead you on an adventure. This book will bring to life some recognizable characters as well as some new faces. Disney Publishing sent us a sample to read of the book and it is safe to say that the movie is going to be awesome since the prequel book was so good.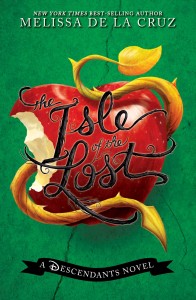 Just to give a little glimpse as to what the book entails, imagine this…twenty years ago, some of the most evil villains were banished from the Kingdom of Auradon and sent to Isle of the Lost. This place was known for being dark and having a powerful force field that prevented anyone from leaving. On top of that, all the powers of the villains were taken away.
With the idea of being forgotten, how could they make it back to civilization? Would their evil persona last after all these years?
In this prequel book, your answers await. This book is set to hit shelves on May 5. That means there will be plenty of time to read up before "Descendants" is to air on Disney Channel later this year.
As for even better news, Disney Publishing has provided materials for a giveaway on our site! One lucky winner will have the chance to win a Host a "Descendants" Premiere Party Prize Pack.  The winner will receive:
5 copies of The Isle of the Lost for you and your guests
plus temporary tattoos and two sets of hair chalk to look the part for your premiere party!
In order to win, be sure to head over to our Instagram page by visiting @dapsmagic. All you will have to do is like, follow and share our giveaway photo to be entered in the drawing. Also, don't forget #DAPsgiveaway and #DisneyDescendants in your photo repost. The drawing will end at 11:59pm on Friday night. Winner to be announced on Saturday.
Best of luck to those that enter.
For more information on Disney's "Descendants," you can click here to visit their official website.
Enjoy!