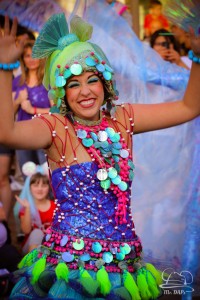 Sometimes even villains have their dreams come true at Disneyland. On April 26, 2015 Cruella saw one of her fiendish dreams come true when someone brought her a puppy. Thankfully, nothing tragic happened and Ms. DeVil and the puppy both walked away from the encounter in one piece.
It was a lovely day at Disneyland and as often happens on Sundays, I found myself watching Mickey's Soundsational Parade with my buddy Agent Pink. Actually, we watched both parades together that day. Here are photos from the day. I hope you enjoy them. If you ever have specific things you would like to see photos taken of, please let me know in the comments! Or if you just liked one that is in the gallery, I'd love to know that as well!
Make it a GREAT day!