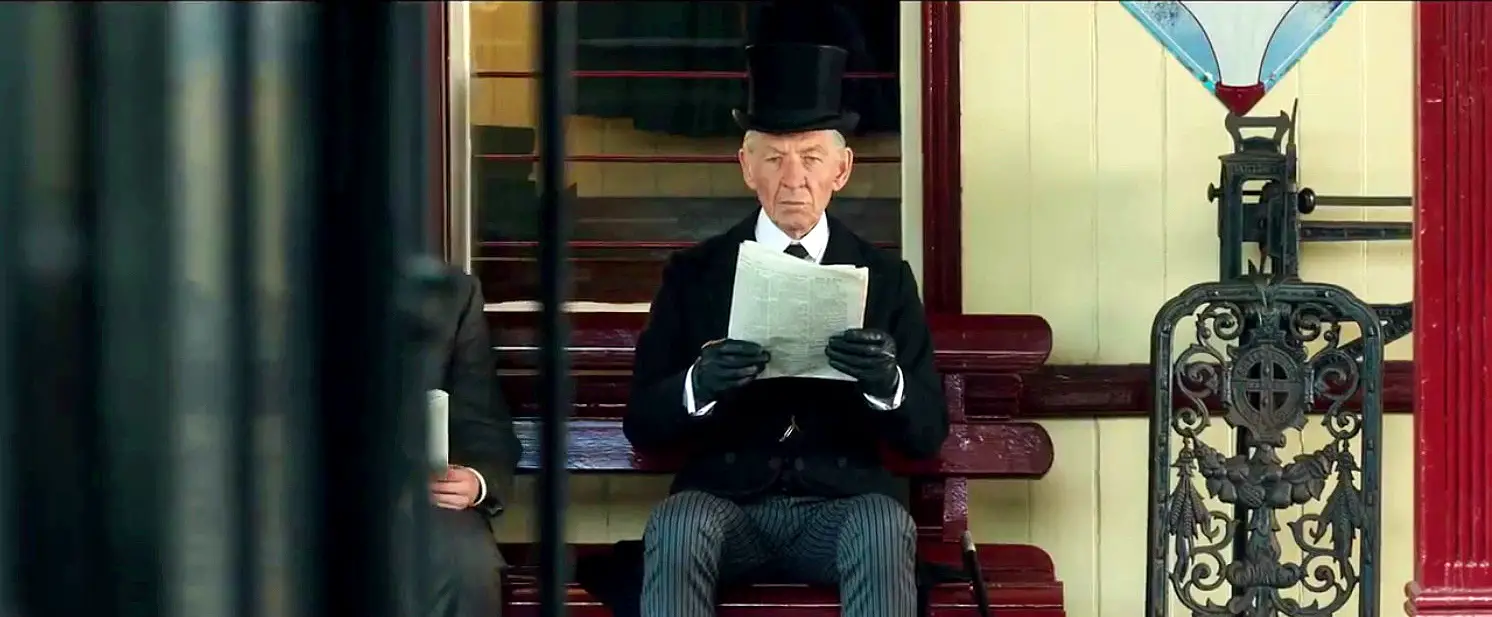 Watson wrote the story… but he changed the ending
A new UK trailer has surfaced on the internet for Ian McKellen's upcoming film Mr. Holmes. In it, an aging Sherlock Holmes attempts to find closure in life by solving the final case of his career. This requires the 93 year old Holmes to fight memory loss and public misperceptions to remember and solve the case that happened 35 years earlier.
A new trailer has been released that gives a better overview of what Mr. Holmes will be about when it hits theaters on July 17.
Mr. Holmes – Official UK Trailer
Academy Award nominee Ian McKellen takes on the iconic role of Detective Sherlock Holmes, one of the British literature's most reveered characters in the forthcoming film MR HOLMES.

In 1947, the world famous sleuth has retired to a remote Sussex farmhouse, living in relative anonymity with only his housekeeper Mrs Munro and her young son Roger for company. Cantankerous, demanding and frustrated with the mis-representation of him in Watson's best-selling novels, he diverts his attention to an unsolved case. As the mystery deepens, Sherlock tries desperately to recall the events of 30 years ago that ultimately led to his retirement.

Starring Academy Award nominee Laura Linney (The Savages), Frances de la Tour (Harry Potter) and newcomer Milo Parker, MR HOLMES is adapted from Mitch Cullin's 2005 novel A Slight Trick of the Mind and is directed by Academy Award winning filmmaker Bill Condon (Gods and Monsters).
So what do you think?
This movie continues to get more intriguing to me. It is a completely different take on Sherlock Holmes than has been shown in recent years. Ian McKellen has already sold me on being the aging Sherlock Holmes. I'm finding myself incredibly curious about the case and how this story resolves itself.
I'm curious if the story does resolve around a specific case in the Sherlock Holmes casebook or if it is only around the Mitch Cullin's A Slight Trick of the Mind. There are clearly some references to known Sherlock stories in these trailers however… I'm not sure if they are utilizing an exact case or creating one.
While there are still questions to be answered, it looks like Ian McKellen will deliver a solid performance as it seems to be a perfect fit for the actor (and for fans). I really can't think of anyone I'd rather see in this role for this movie. Who knows, maybe this could finally lead to Ian McKellen getting his first Oscar? Too soon? I would love to see him get this award and I'd love for this movie to be good enough to put him into Oscar contention again.
What do you think? Do you know what case this movie is potentially based on?
Make it a GREAT day!