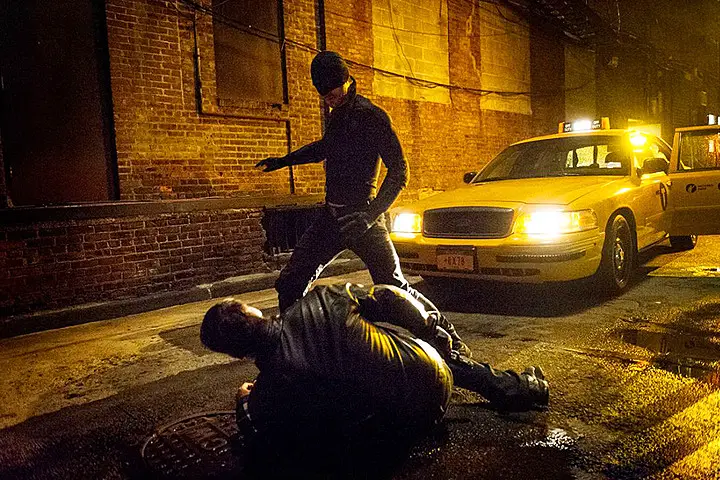 Marvel Studios is expanding the cinematic universe, and especially with its second television outing.  Daredevil premiered today on Netflix.
First, the great thing about it being on Netflix is that the full season is available all at once.  No need to wait a week between.  The second thing great about this series is that it introduces a Marvel super hero right away.  Agents of S.H.I.E.L.D. does have a super hero in its ranks now, but it's taken almost two seasons to get to a full fledged super power person.
Daredevil is unlike the other Marvel movies and ABC show.  It's the darkest out of all of them.  The setting itself gives way to that.  Hell's Kitchen is an area of New York that houses the most down and out of the city.  Even worse for its residents are the people that take advantage of them.  Matt Murdock wants to change all that.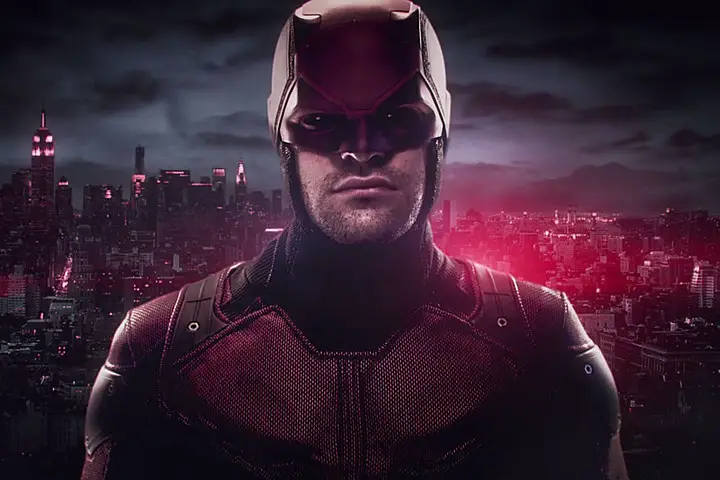 The series begins with not much explanation of origin for Murdock's super human abilities.  It's nice to have a series not take a lot of time to get into the action.  But, it's bad for those who know very little about the Marvel hero.  Murdock was blinded as a child by chemicals that didn't just make him lose his eyesight but had all other senses enhanced beyond normal humans.
Matt Murdock is a very complex character.  In the beginning we see him asking for forgiveness from a priest for what he will do as a vigilante.  Yet, he has no hesitations for beating the bad guys.  He wants justice, yet comes close to the line between being a good guy and a bad guy.
As for how the show is done, the whole production is gritty to fit the premise of the show.  A lot of hand held cinematography and no holding back on violence is in each episode.  The series is rated TV-MA and it's evident through the blood and adult language.
Daredevil has a lot of easter eggs and references to the rest of the cinematic universe.  My favorite is where the baddies keep talking about how lucrative the big New York battle in Avengers was.  It was lucrative because of the collateral damage and the need for construction companies.  Another great reference is flashbacks of Matt's father having to fight Creel, who appeared in the Agents of S.H.I.E.L.D. show.  It's great having these connections because of the show being pretty different from movies and shows that have been out already.
So, is it worth watching?  As I write this I'm only a couple episodes in.  Each is a little less than an hour so it means a half a day to get through it all.  But, I can say that I'm enjoying it.  There's more mystery to uncover than Agents, and has a different tone and feel than the rest of the cinematic universe.  The action choreography is terrific and is on par with Captain America: Winter Soldier, which has my favorite fight scenes so far.
Netflix's Marvel show is a great entry into the Marvel universe.  It's definitely a super hero show, even being a bit darker than CW's Arrow.  There's elements that feel like a cop drama, but, again, it's a super hero show through and through.  I'll admit I was a little afraid I would not like the series, and it did have a slow start in the first episode.  Everything picked up very quickly and it has been a great beginning to several connected shows.
If you are a Marvel cinematic universe fan, this is not to be missed!  If you want to enter into a super hero show, it seems like it's a good one to start with.  Keep in mind it's not a kids show.  Once I'm finished I'll have a full review, but feel free to beat me to it and say what you think in comments.