Yesterday, I attended a screening of the latest Tinker Bell film, "Tinker Bell and the Legend of the NeverBeast" at The Walt Disney Studios. Armed with a bucket of popcorn and a bottle of soda, I was ready for another film in a long line of Tinker Bell films, produced by DisneyToon Studios, which has previously made six other Tinker Bell films, films that I thought were fun and entertaining, albeit safe. I knew there was something different about this film when up to the stage walks Mae Whitman, the voice of Tinker Bell, who introduced the film and spoke briefly about how much the characters meant to her.
It is often a general assumption that, in the case of film franchises, the further you go down the line of sequels, the more monotonous and dismal they become, often retreading storylines and character growth. I am pleased to report that in the case of "Tinker Bell and the Legend of the NeverBeast", none of these traits apply. In fact, the film contains such a wonderful change of pace for the Tinker Bell series that I am keen to rewatch the previous Tinker Bell films and track the subtle nuances of each one, from the visual artistic choices, to the character growth, to the plethora of ingenuity behind each and every storyline.
Take the Neverbeast, Gruff, for example. In this film, the fairy Fawn (voiced by Ginnifer Goodwin) takes center stage as the lead when she discovers a hibernating creature awakening from its slumber. Its absence in the previous films is explained quite clearly – that it has been hibernating for the past 1000 years and has finally woken up. When Gruff (named because of its demeanor) begins collecting rocks and piling them on top of each other, Fawn's curiosity is peaked and she attempts to befriend the gentle giant. Slowly they form a mutual admiration, and by the end of the film, their love is completely sincere.  "Fawn and the Legend of the NeverBeast" would be a more suitable name for the picture, as she completely steals the show this time around, allowing Tinker Bell to take a day off and help out her friends with their own adventures.
Opposing Fawn's independent streak are the elite Scout Fairies, led by the leader Nyx, voiced by Rosario Dawson. They see anything large and mercurial as a threat to the Pixie Hollow society, and will defend their home by any means necessary. Constantly, they view Fawn as a troublemaker and a hindrance, who regularly endangers everyone by smuggling in dangerous hawks and rats. When they hear the roar of the NeverBeast, the Scout Fairies begin an almost conquistadorial hunt for the elusive monster. According to legend, the NeverBeast will appear, signaling the coming of a prophetic lightning storm and the end of the world.
The stakes in this film are much larger, and the story becomes grimmer as it reaches its climax. "NeverBeast" features an impressive stylistic and tonal change from the previous Tinker Bell films. Up until "The Pirate Fairy", the Tinker Bell films seemed to focus rather heavily on the w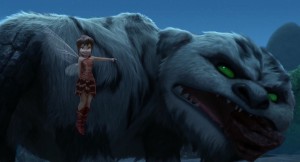 himsical and adventurous elements of the Tinker Bell universe. With "Legend of the NeverBeast", gone is the light Celtic atmosphere, replaced by a high stakes dark fantasy journey. The film features incredible aerial action and chase sequences that would rival "How to Train Your Dragon", fairies zooming through Middle Earth-esque landscapes in a jaw-dropping spectacle that has never been attempted before in a Tinker Bell film. Watching this film, I saw more and more similarities to a 1980s Jim Henson film like "The Dark Crystal" with its dark fantasy elements, foreboding sense of apocalyptic danger, and incredible creature designs. In fact, Gruff the NeverBeast looks like something that walked right out of the Jim Henson Creature Shop.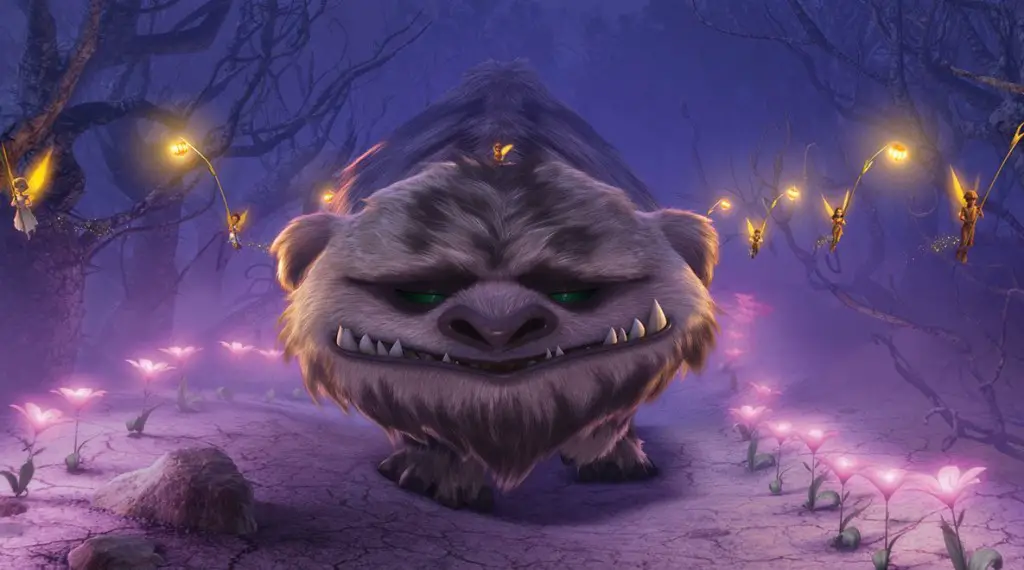 With such a beloved series like the Tinker Bell films, certain boundaries are set that provide both a positive and difficult experience in telling new stories based on preexisting characters. Though the stage has been set and audiences will already be immersed in the world of Pixie Hollow, it is extremely difficult to tell new stories when there are boundaries to consider. How will this new piece of mythology fit into a world already so well-known by the public? There are expectations to meet and normally it would be difficult to introduce new concepts to a place like Neverland, which has already established its own enormous mythology. However, "NeverBeast" found an opportunity to take liberties and risks that benefitted the picture and gave it, not only a breath of fresh air, but a whole new perspective, creating a brand new visually-stunning, jaw-dropping spectacle.
In any other case, a film with the intensity and tone of "NeverBeast" would be considered too scary for its target demographic; however, the great thing about being a Tinker Bell film is that there is a sense of familiarity and comfort that comes with each new story. We love characters like Tinker Bell and Fawn, and we aspire to their positivity and enthusiasm. No matter how dark or scary a film like "NeverBeast" will get, we take refuge in knowing that we have familiar characters onscreen to reassure us.
"Tinker Bell and the Legend of the NeverBeast" will be released on blu-ray/DVD March 3rd, 2015.