Do you like wearing symbols or designs that represent your favorite Marvel Universe character? Five Four and Marvel Entertainment have announced a new men's apparel line coming this April. This line of clothing will bring together "Super Hero characters and storytelling with fashion-forward innovation."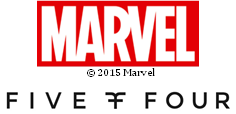 The line will consist of outerwear, dress shirts, graphic tees and accessories, according to the press release. Could you imagine wearing a dress shirt with the pockets inside to be lined with hints of your favorite character? Pretty neat stuff.
Andres Izquieta, co-founder and CEO of Five Four said, "Our designers really dug through the Marvel archives to find new ways to recreate the heritage and evolution behind the brand and its Super Heroes. We're so excited for the opportunity to work with Marvel; the collections showcase some of our best designs to date."
Currently, only members of the Five Four Club will be able to purchase these items. For more information on prices and membership details please click here.
What are your thoughts on this line of apparel?