I have had an annual pass to Disneyland for almost 20 years now.  Most of my times going to the park have been with other people, but there are quite a few times that I find myself flying solo at Disneyland and Disney California Adventure.
When I've told people I go to the parks by myself, I get anything from people trying to give me a sympathy hug to questions about what to do by yourself.  I've got to say it is not a bad time to spend going to the parks on your own.  Here's some reasons and tips for solo adventures.
Ride Decisions are Up to You Not a Group
It may sound like I hate people, but sometimes I think decisions are harder in groups.  Being by yourself at the parks means you can go on whatever at whatever time without spending extra time coming to a consensus.  Now, I do like going around the parks with people.  Lines are a lot better when you're having a good time with friends or family.  But, I've had those hard times where no one can think of what to go on next.  It can be painful.  If you are by yourself, you get to make that decision…as long as you don't have a hard time doing that on your own.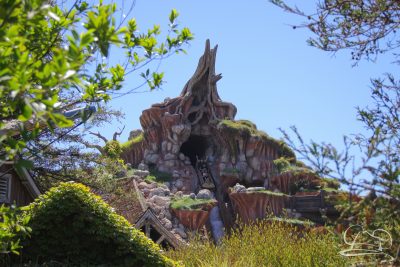 Single Rider Lines
Some attractions have single rider lines.  If you're not familiar with these, it's a special line where an individual can occupy an empty seat due to odd-numbered parties.  If you're with other people it means the group will be broken up by getting in this line.  But, if you're by yourself anyway, it means a faster line for some of the best attractions!  Both Disneyland and Disney California Adventure have a few attractions with these lines.  Keep in mind it doesn't mean it's a walk on.  Cast members are trying to accomodate those that are in the regular line.  But, it does mean a shorter time to spend than waiting in that line.  Sometimes the attraction has the line marked, but it's best to ask a cast member about it since you sometimes have to get a special card to be collected before you go on.  Here's the attractions that commonly have the Single Rider line.
Disneyland
Splash Mountain
Indiana Jones Adventure
Matterhorn
Space Mountain
Disney California Adventure
Radiator Springs Racers

Park Photography
If you're an amateur or pro photographer flying solo is one of the best ways to go with taking pictures around the park.  I'm not talking about photos of groups.  There is beautiful scenery at the park, and fun characters to catch.  You could spend a whole day trying to capture the essence of the park, but it means not having to accommodate friends or family.  Again, nothing against that, but I find when I want to stretch my creative photo urges, it's nicer to go around on my own for photo hunts.
Easy Mobility
One of the hard things in groups is getting around on a busy day or trying to find a spot that can fit everyone.  Flying solo enables ease of dodging strollers and finding a place to watch a show or parade.  You'll practically fit in anywhere!  Remember to still be courteous.  There are still family and groups of friends around you.  Be nice as you get into position for a parade where you're not just butting in or getting in the way of anyone.
Business and Studies at the Park
If you have a job where you can work from anywhere, the parks are a lot of fun to hang out and get work done.  I know it seems counter to be at a place of play to get things done, but I've found the happy atmosphere helps me focus and get things done well.  Fiddler, Fifer, and Practical Cafe is a great place to sit and type on a laptop.  If you sit at a stool by the window sometimes you can work while catching a show on Buena Vista Street.  Another great place is at Coke Corner and Jolly Holiday Bakery on Main Street.  There is often a piano player (my favorite being Ragtime Robert) which provides great background music to work to.  Keep in mind that there are not easily accessible plugs for laptops and other devices.  If you just need to read, I have found that riding on the train for a few loops is a fun way to get reading done.  There are spots without much light, so unless you have a device you are reading an ebook on, it may not be consistent reading.  But, maybe that can provide some breaks in between pages.

Meet New People
I have met people that have become friends because of going by myself to the parks.  You will definitely hear conversations in the park that you can join into…as long as you politely ask permission to give a tip.  Often other passholders are going for a special event or show.  I find that many are prone to being social, especially about something Disney.  Ask them how they found out about the event.  Or maybe how often they get to the parks.  Who knows?  Maybe you'll establish friendships where you don't go to the parks alone anymore!
Often we will frequent the parks with others.  The parks are to be mostly enjoyed in groups of families or friends.  But, sometimes it's nice to go alone to the magic kingdoms.  Don't let anyone tell you it's a terrible idea or it's sad.  I've found that the ones that say that have never gone by themselves.  It can be quite enjoyable, but it's always with the right attitude.  Keep positive and courteous and you'll enjoy your time solo at the parks!