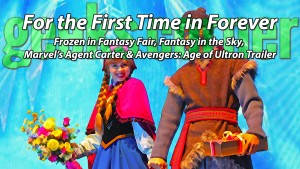 Welcome to Geeks Corner! There is a ton going on this week but we tried to narrow it all down to two categories: Disneyland and Marvel. Yea, that isn't really narrowing it down a ton but at least we tried, right?
Disneyland
Frozen Fun is officially off and running at the Disneyland Resort. While a lot of the offerings had been open before the official kick off, one thing that wasn't was the Storytelling of Frozen at the Royal Theatre in Disneyland's Fantasy Faire. This comedic and musical telling of Frozen is reviewed by Mr. DAPs and Johnny 5 on this week's episode. If you haven't seen it yet, you can watch it here:
What did you think of it? What was your favorite part? What did you think of Olaf?
Fantasy in the Sky has returned to the skies about Disneyland. This brief fireworks spectacular will be performed throughout the spring in anticipation of a 60th anniversary fireworks celebration for Disneyland. What do you think of this show?
Marvel
It seems like each week gets busier and busier for Marvel. This week a new trailer was released for Marvel's Avengers: Age of Ultron. It's time to review it and notice some subtle details in the trailer. What did you think of this trailer? Are you excited for this movie? If you haven't seen it yet, you can watch it here.
Finally, Agent Carter has come to the small screen and the geeks get to geek out about this highly anticipated Marvel show. This is a shortened season as it is sandwiched in between the first and second halves of Marvel's Agents of S.H.I.E.L.D. Do you like where the show is going? Any predictions for how it fits into the rest of the Marvel television and cinematic universe? You can always read Johnny 5's reviews of Agent Carter at dapsmagic.com/agentcarter so check back weekly!
We hope you are having a geektastic week! Make sure you take a minute or two to subscribe to our youtube channel, share our videos, and of course comment! We love to converse with you!
Let's go to the corner!