Dining at the Disneyland Resort is always a fun experience. You are able to try so many different types and styles of food. As a vegetarian, eating at the resort is not as hard as you think. There are plenty of options to try, just like everyone else. If you see something on the menu you would like but it contains meat, ask the cast member helping you if there is any alternative. If you aren't too sure and would like to plan your dining experiencing a bit further, please call the Disney Dining at (714) 781-3463. Here you can discuss your dietary needs with a cast member and even book dining reservations.
Recently during a visit to Disney California Adventure Park, my friends and I had lunch at Carthay Circle Restaurant. Upon receiving our lunch menus, I was a little worried to only see entrees containing meat. I asked our waitress if there were options for vegetarians. Oh boy, there was a great list. Pretty much every entrée could be altered in some way to fit my dietary need.
After going through what my options were, I was pretty excited to try something new. There was one entree that caught my attention. As the cast member listed all my options, the phrase of 'mystery veggie tower' was thrown in there. Once she mentioned that, I had to try it. So for lunch, I ordered the veggie plate. This meal is created uniquely every time by the chef. No two veggies plates are the same and each tower of veggies will come out looking different according to our waitress.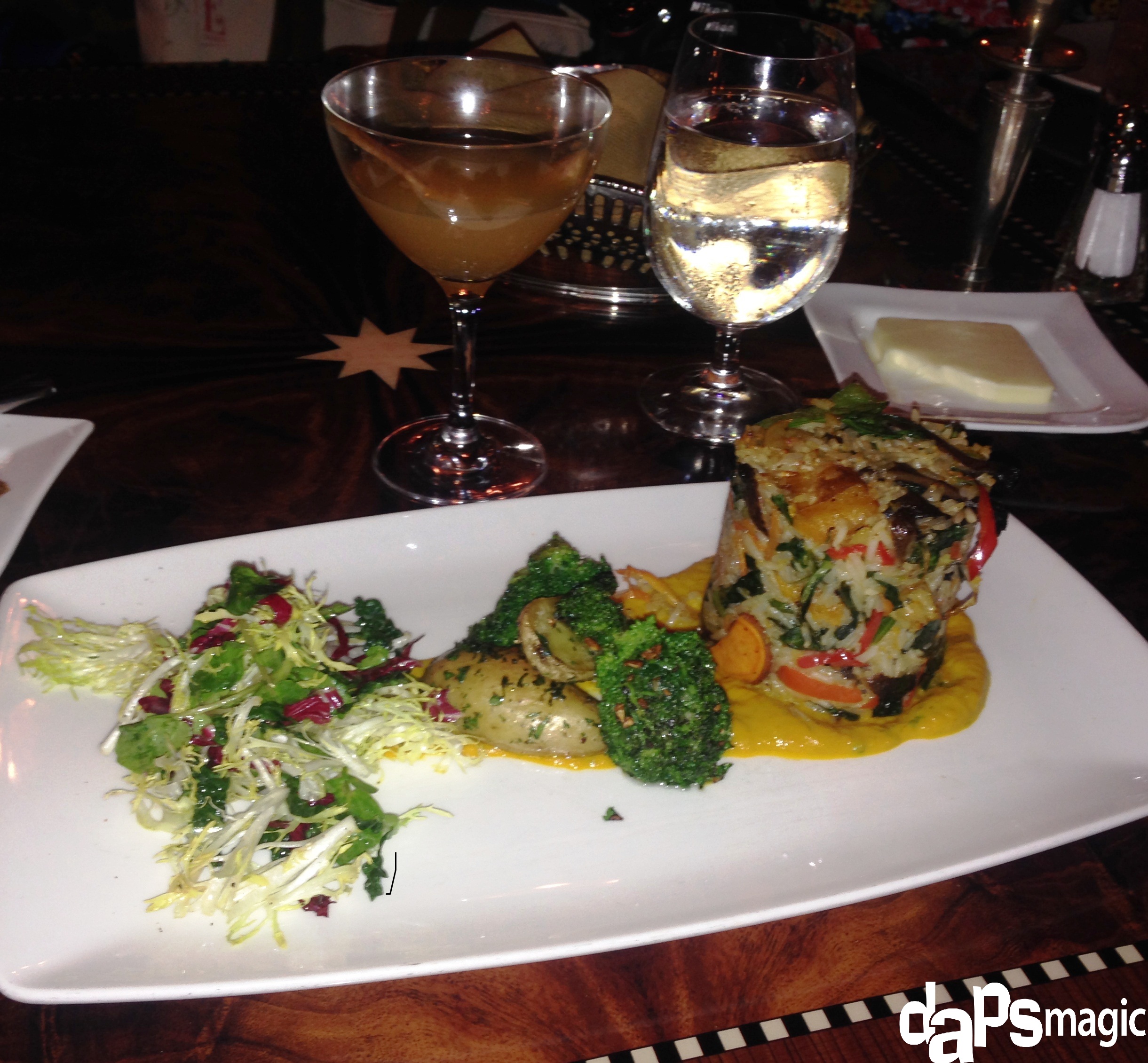 Lo and behold, the most exciting and delicious meal I have ever had at the Disneyland Resort. This meal was amazing! There were so many flavors and different types of vegetables; it was like a farmer's market on my plate. Though it may not look appealing to some, it was so yummy. This entrée came with a salad, a serving of potatoes with seasoned vegetables and the mystery veggie tower. The items were all hinted with a seasonal flair. As for the veggie tower, this contained spinach, rice, sweet potatoes, carrots, mushrooms, peppers and more. It was truly a delight. Also, if you happen enjoy a gluten free lifestyle; this meal can be molded to your need. All you have to do it mention this to your waiter.
I would highly recommend this to anyone, no matter if you eat meat or not. It was great and I really enjoyed. Also, I appreciate the resort for being so accommodating. It's a great feeling to know that you can order something else besides a salad. So if you happen to stop by Carthay Circle Restaurant, maybe try it out. If you do, let me know what you think.
Also, stayed tuned to DAPs Magic as I venture through the Disneyland Resort trying other delicious vegetarian options. You never know what may appear on my plate next.
Hope you enjoyed this meal recap. If you have any suggestions, please let me know. Also, if you have dined at Carthay Circle Restaurant, what is your favorite?