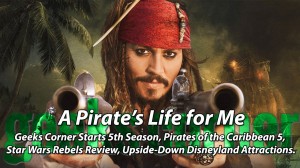 Welcome to the first episode of the fifth season of Geeks Corner! This week we celebrate the fifth season with a few five related items (big surprise huh?).
That isn't all that is going on however, Star Wars Rebels has hit the small screen and we review it this week. Geeks Corner contributor Danie posted a fantastic review on Geeks Corner and the geeks chat about it. You can read the review here: https://www.dapsmagic.com/2014/10/03/star-wars-rebels-spark-rebellion-s1e1-review/
Next it's time to go to Disneyland take a look at 5 attractions that would be fun to play with and change in a geeky way. Yes, you guessed it. We would make them upside-down! Check out what happens when the geeks take over these attractions!
Pirates of the Caribbean: Dead Men Tell No Tales is sailing into theaters in 2017. Time to recap what is known about the upcoming Pirates 5 and also discuss what was good and not so good about the Pirates of the Caribbean franchise.
Finally, the Geeks have a musical surprise for you but since it is a surprise let's just skip it for now. Instead, this week the Geeks are giving those who are watching live the opportunity to ask 5 questions of them to answer in the returning segment: Fast Five!
It is a geektastic week so let's go to the corner!
Like to geek out with us?
Subscribe for more weekly geeky videos: http://bit.ly/WsmjJT