J.K. Rowling is at it again. Eager Potterheads have been waiting for any bit of news from our matriarch in regards to anything pertaining to the world of Harry Potter. With Fantastic Beasts and Where to Find Them in progress there hasn't been a lot for us to cling to. That is until yesterday when Ms. Rowling sent out this tweet:
This sent Potterheads into a mass hysteria trying to figure out what it meant! A clever Redditer seems to have solved it however, it appeared to be an anagram for:
"Harry returns. Won't say any details now. A week off. No comment."
Now based on her previous tweets, we know that Ms. Rowling is working on the screenplay for Fantastic Beasts. Subsequent hints from Ms. Rowling claim that Harry will not returning but rather these tweets pertain to Newt Scamander:
So what do you think? What is Ms. Rowling trying to tell us? Potterheads sound off and let us know what your thoughts are!
And here is the solution: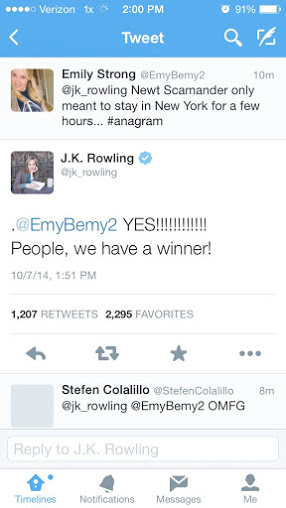 Have a Magical Day!
DC