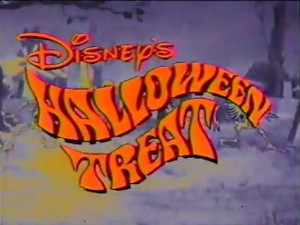 Happy Halloween everyone! Today I am going to discuss my all time favorite Disney Halloween-themed thing! That thing is Disney's Halloween Treat! Disney's Halloween Treat was a television special in the early 80s that aired on The Wonderful World of Disney. There are 2 versions, one hosted by the Magic Mirror and one hosted by a pumpkin puppet. The version I will be discussing is the pumpkin version.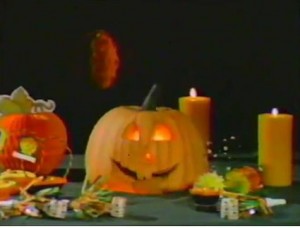 The special starts with an amazing theme song! The opening is a compilation of cartoon shorts using Lonesome Ghosts, Trick or Treat and The Skeleton Dance. The special is narrated by a Pumpkin puppet (I love the look of this guy and would love one for my bedroom!) The special is made up of clips from various movies and animated shorts. These clips are combined with narration about making a really great Halloween party and the clips are:
Madam Mim – The Sword in the Stone (1963)
Night on Bald Mountain – Fantasia (1940)
Clip of "Pluto's Sweater" (1949)
Clip of "Mickey's Parrot" – (1938)
"Donald Duck and the Gorilla" – Donald Duck and his nephews Huey, Dewey, and Louie (1944)
"Pluto's Judgment" sequence, consisting of three individual Pluto (Disney) cartoons assembled together

"Puss Cafe" (1950)
"Cat Nap Pluto" (1948)
"Pluto's Judgment Day" (1935)

Captain Hook – Peter Pan (1953)
Cruella De Vil – One Hundred and One Dalmatians (1961)
The Wicked Queen as Old-Hag Witch – Snow White and the Seven Dwarfs (1937)
Si and Am – Lady and the Tramp (1955)
Headless Horseman – The Adventures of Ichabod and Mr. Toad (1949)
Disney's Halloween Treat is truly wonderful! It is a great family friendly special. What is unfortunate is that it no longer airs and is only available on VHS. In fact, the VHS tapes are so rare that on Amazon the asking price (I am not sure if they ever sell for this price) is around $200!! It was never released on DVD and as of now, there are no plans to release it. Lucky for you, it is on YouTube and usually easy to find. I hope everyone enjoys it as much as I do!
Have a Magical Day!
DC