Things just got a whole lot better over at Steakhouse 55 at the Disneyland Hotel. With new chairs, carpet, dishes, silverware and food, this location has surely become even better than ever. Disney Parks Blog gave some insight on the new menu update. Chef Marcel St. Pierre has refined and created a wide array of dishes that are at the top of their level.
First off, the three course Steakhouse 55 Chef's Tasting includes the Fifty-Five Salad, a braised short rib Bourguignon and crème brûlèe with a pear marmalade. This comes to $55 or $85 with a wine paring.
The new menu still includes the tiger prawns but they are now offered with a Bloody Mary cocktail sauce and lemon gelee. Other new appetizers include the pan-roasted pork belly with a truffle mascarpone. Also, be sure to check out the smoked filet mignon tartare.
In addition to the appetizers, new sides have also been added on. Flash-fired spinach and truffled macaroni and cheese are sure to make your mouth water. The Delmonico Gruyere Casserole is also great coming with cheesy fingerling potatoes, smoked bacon and thyme.
This location also offers vegetarian selections. Here you can find the ratatouille "meatballs." This offering is made with mushrooms, carrots, lentils, onions and bread crumbs. The "meatballs" are come with zucchini spaghetti.
Lastly, the best part in my opinion, the dessert! Here you can find the famous 24 layer cake that now comes with spiced pumpkin gelato and roca. If that isn't making your mouth water, how about the banana mascarpone cheesecake or the warm apple butter cake?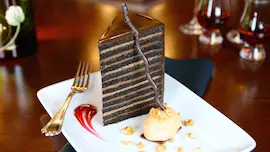 This and so much more can be found at Steakhouse 55. If you would like to see a complete menu, please click here. This new menu will debut on October 29. For reservations, please call 714-781-DINE.
What item sounds more appealing to your taste-buds?