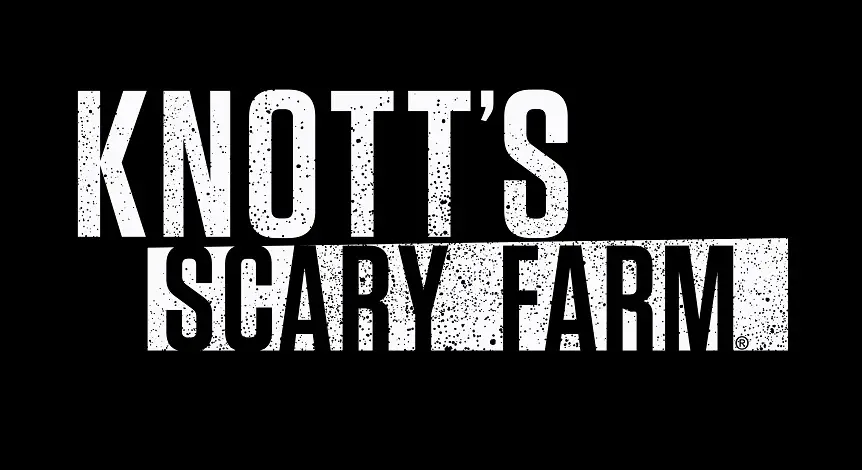 One of the hottest tickets for the Fall season is Knott's Scary Farm. This extra ticket nighttime affair has been a main stay for over 40 years. Each year, Knott's ups the ante and pushes technology features and experiences to make it one of the best events anywhere.
Knott's Scary Farm consists of, basically, three things: mazes, scare zones, and shows. Each year contains returning mazes and some new ones. Scare Zones are normal Knott's areas that have specific scare themes where just walking around a guest will encounter monsters. The annual shows include The Hanging, where the year's top pop culture stories are made fun of, and Elvira is a revue type show with a classic horror theme.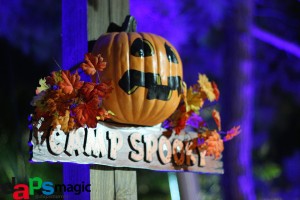 The Scare Zones can be pretty elaborate, and we enjoyed traveling through most of them. Dia De Los Muertos had monsters with skeleton like faces. Dancing and frightening commenced. It made a for a jolly scare. The Boardwalk area was transformed to Carneval, which had the monster theme of clowns. Really, freaky clowns. Around Ghost Town was the most intense for us. It housed a very fog infested pathway where you could barely see in front of you. This, of course, made for some startling moments when the person beside us would turn out to, say, a werewolf.
There were several mazes to experience, and though we had front of the line Skeleton Key passes, we still missed two. Trick or Treat, Voodoo, Dominion of the Damned, The Toothfairy, Pinocchio Unstrung, Forevermore, Black Magic, Gunslinger's Grave, and Witch's Keep were all the mazes to experience. The ones we missed were Trick or Treat and Forevermore.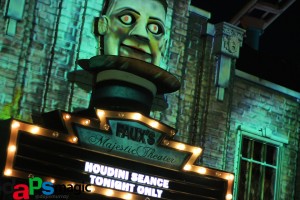 The Skeleton Key gave us access to a special room at the beginning of the maze that explained the back story. Each had special effects and a live character to help tell the tale. Voodoo was about how we needed to appear like the zombie voodoo villagers to get through. Dominion explained how we are traveling through a manor with vampire-like residents that grew their children…who also needed to feed on people. Black Magic brought back Houdini from the grave to haunt the theater setting. Gunslinger's Grave showed how the gunslinger is pitted against some very vile cowboy gangs. Our favorites were Black Magic and Gunslinger's Grave. Both were very elaborate and had some great surprises to keep us on our toes. They used some great effects to make for a creepy environment. Dominion was good, but we noted that it was still hard to figure out what the story was, and the effects could have been improved. Though, it made for a good laugh when Johnny 5 had to volunteer…yes had to…in "feeding" the little head monsters that resulted in his getting wet. I don't want to spoil much for people, but, for us, it did make for some laughs at his expense.
Voodoo is a new maze that has a choose your own adventure style. We only went through once, but saw how one path would go through a shack as we were walking beside it. That is one example of how to have gone through it. It's a neat new way to have a maze, but we noticed the choosing happened more at the beginning of the maze. You can't go back and forth between areas, it's still somewhat linear. We wished it had been more choosing throughout.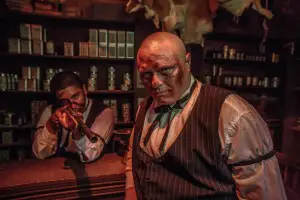 Gunslinger's was one of the more tame mazes, if you are looking for that. Not as many creepy monsters, just an intense feeling of needing to get out of the area. Toothfairy was the most creepy. It included a whole black out room where you have to feel a little of your way out. The story was definitely the creepiest where the Toothfairy doesn't take tooths away, but the children who lost the tooth. And, it combined with many people's fears: going to the dentist.
Witch's Keep is a makeover of the Calico Mine Ride to be a ride through maze. This is fairly tame too as there are no live monsters in it, but just a creepy atmosphere and added effects and elements to it. It's a somewhat family friendly haunt ride to experience.
This year, a big addition to the haunt fest was Special Ops: Infected Zombie Apocalypse War. This very interactive scare zone is best described is laser tag with zombies. Teams of about 12 are taken through a war zone in Camp Snoopy armed with guns. Two military ops personnel help guide the team through a zombie infested area. Some guests are asked to do certain tasks. At one point, the team is divided for two separate tasks.
This attraction was our favorite at Knott's Scary Farm. It was a living video game and fulfilled an ambition to shoot zombies and save lives. Yes, I do strategize what I would do in case of a zombie apocalypse. All of us for DAPsMagic were considering the Scary Farm season pass to keep coming back and just doing this game.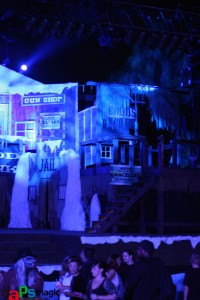 Out of the shows, we were unable to experience Elvira's Big Top, but did watch the Hanging. There is a warning for The Hanging that it's more for mature audiences, and they were pretty spot on with it. Though it had some…um…colorful jokes, it was definitely a show we enjoyed. The humor of lampooning stories that we got tired of hearing in the news was perfect. And, there was action! The whole idea of The Hanging is that there is someone or something so vile from this last year that they must be "hanged." I won't tell you who it ends up being, but will say some of the possibilities were Canada mayor Rob Ford, Miley Cyrus, Justin Bieber, and Solange Knowles just to name a few.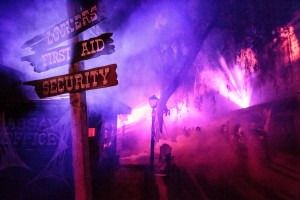 Overall, Knott's Scary Farm was a fun and scary event. It's odd to put those two ideas together, but it was something to experience for sure. There is an anxiousness at first with approaching mazes, but once you go through one it becomes something rather fun to keep going through. It's no wonder that this is a very popular Southern California experience and has inspired others like it throughout the country. Thinking back, I really liked how elaborate the themes and stories were for mazes. They did a good job of feeling like we were really going through whatever theme we were in. The absolute favorite was Special Ops. There's nothing like shooting at zombies with teammates.
My recommendation for Scary Farm: get the Skeleton Key pass. It is well worth whatever you pay for. The bonus rooms you get into are not to be missed. And, it's nice to have a front of the line pass to end up going through almost all the mazes. I've been to Scary Farm before, and only went on about 3 mazes because of having to be in line for too long for them. Get the pass and you'll enjoy yourself even more.
Another tip is that this is not for the squeamish or kids. It's an adult affair. But, still very fun. Is it worth grabbing a ticket for some time? Yes! Go to Knott's Scary Farm! Have a screaming good time!
And, until next time, have a marvelous day!