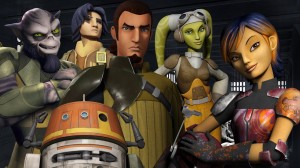 Those who are eagerly looking forward to seeing Star Wars Rebels will be excited to learn that their wait doesn't have to be quite as long. An announcement was made on StarWars.com announcing that the first episode Star Wars Rebels: Spark of Rebellion will be debuting online three days before it hits TV screens.
Here is the release from StarWars.com:
As the force grows stronger and Star Wars fans become more eager for the debut of the animated television movie Star Wars Rebels: Spark of Rebellion, Disney XD has moved up the debut by three days, to Friday, September 26 for verified users of WATCHDisneyXD.com and the WATCH Disney XD app for smartphones, tablets and connected TVs.

The new date will give verified WATCH Disney XD viewers a seven-day exclusive window to watch Star Wars Rebels before the global television debut Friday, October 3 (9:00  p.m.,  ET/PT  in  the  U.S.) on Disney Channels around the world, ushering in the series beginning  Monday, October 13 (9:00 p.m., ET/PT) on Disney XD.
For many Star Wars fans, this will be the first true test of what the Star Wars franchise will look like under the guidance of the Walt Disney Company since it acquired Lucasfilm.
Will you be watching this online, on TV, or both?
Make it a GREAT day!