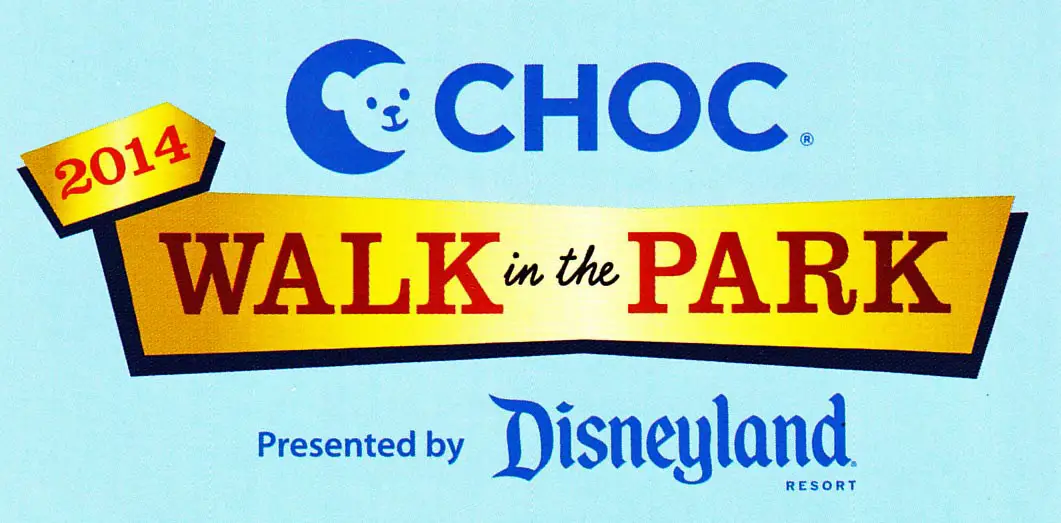 On October 12, 2014 thousands of people will walk through the Disneyland Resort for the largest pediatric walk in the United States. The CHOC "Walk in the park" supports Children's Hospital of Orange County (CHOC) and the children and families who rely on the care CHOC offers.
CHOC Walk 2014 will have an estimated 15,000 walkers participating from around the world. This 5K walk has raised more than $22 million since it first came to being in 1990. Last year alone the walk raised $2.1 million.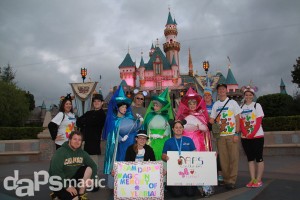 DAPs Magic has participated in CHOC Walk for several years now. Known for wearing their crazy hats, the team continues to reach out and grow in an effort to support CHOC.
If you would like to join or support team DAPs Magic, please click here.
Here is a look at CHOC Walk 2013:
PRESS RELEASE:
THE LARGEST, SINGLE PEDIATRIC WALK IN THE U.S.
– 2014 CHOC "WALK IN THE PARK" –
STEPS OUT AT DISNEYLAND RESORT ON OCTOBER 12, 2014

The event is the biggest annual fundraising effort for CHOC Children's, devoted to meeting the medical needs of children throughout Southern California and beyond

ORANGE, Calif. (Sept. 26, 2014) – As the twilight skies of early morning give way to daybreak on Sunday, October 12, 2014, one of the most famous thoroughfares in the world will become the starting point for an impressive procession of joy, thanks, remembrance and giving. Main Street, U.S.A. at Disneyland Park in Anaheim, California, will be filled with thousands of people coming together in support of Children's Hospital of Orange County (CHOC Children's) and the health and well-being of children near and far.

CHOC "Walk in the Park," presented by Disneyland Resort, is the largest and most unique single pediatric walk event in the nation. Among the event's estimated 15,000 walkers are participants from across the U.S. and around the world, including walkers from Canada, Mexico, Australia and South Korea.

"CHOC Walkers" come together to celebrate the lives of children saved by CHOC Children's, and to honor the memory of those children who bravely lost their battle against serious disease or illness. Nearly 800 teams are expected, and include current and former patients and families, as well as doctors, nurses and other medical professionals. Last year's event raised $2.1 million, and since its inception 24 years ago in 1990, the Walk has raised more than $22 million.

The 2014 walk covers three miles through Disneyland Park and Disney California Adventure Park where "CHOC Walkers" get a special peek at the magic of the Disneyland Resort before the parks open to the general public. At the end of the 5k walk, the event continues in the resort's Downtown Disney District where event sponsors, hospital support groups, shops and restaurants have special offers for Walk participants.

"It's spectacular to see thousands of people line Main Street, U.S.A. on an early Sunday morning to take steps – literally – in support of CHOC Children's mission and vision," said Kimberly Chavalas Cripe, president and CEO, CHOC Children's. "Participants from diverse backgrounds, including individuals, school teams and corporations, are joined together by a common bond. It's a unique experience – thanks so much to our dear friends at the Disneyland Resort, and the tremendous show of support of our sponsors is a tribute to our community. This year's event is particularly special, as our hospital celebrates our 50th anniversary."

"The Disneyland Resort has been a proud supporter of Children's Hospital Orange County for the past 50 years," said Michael Colglazier, president of the Disneyland Resort. "CHOC 'Walk in the Park' is a very special event for our Cast Members, and we look forward to hosting it for the 13th straight year."

The popular event is the biggest annual fundraising effort for CHOC Children's, a regional pediatric health care system (serving children and families in Southern California and beyond) that includes two hospitals, many primary and specialty care clinics, and four clinical centers of excellence – the CHOC Children's Heart, Neuroscience, Orthopaedic and Hyundai Cancer Institutes. Monies raised support a variety of patient and family programs, as well as education, research and the development and adoption of the latest technologies to advance the health of patients at CHOC Children's.

In order to help CHOC reach its goal of providing quality healthcare to the region's two million children (and beyond), CHOC Walkers must raise a minimum of $50 to participate in the Walk. Everyone can register at www.chocwalk.org and receive up-to-date event information from the CHOC Foundation on Facebook and Twitter.

About CHOC Children's

Named one of the best children's hospitals by U.S. News & World Report (2014-2015), CHOC Children's is exclusively committed to the health and well-being of children through clinical expertise, advocacy, outreach and research that brings advanced treatment to pediatric patients. Affiliated with the University of California, Irvine, CHOC's regional healthcare network includes two state-of-the-art hospitals in Orange and Mission Viejo, many primary and specialty care clinics, a pediatric residency program, and four clinical centers of excellence – The CHOC Children's Heart, Neuroscience, Orthopaedic and Hyundai Cancer Institutes