Knott's Berry Farm has been a landmark of Orange County, well before Disneyland began construction.  Throughout the park's history, there have been a couple of key areas that have become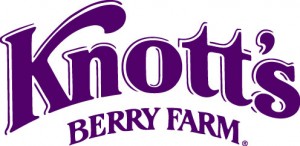 synonymous with the Knott's park.  Though they have been around for a long time, Calico Mine Ride and Camp Snoopy haven't had much change since their beginnings.  This summer marks the reopening of both.  Each is redone to reflect the heritage and fun of the original.
On June 12, 2014, Knott's Berry Farm reopened Calico Mine Ride and Camp Snoopy in two ceremonies.  Present were those that inspired and created these areas of the park.  Darrel Anderson, grandson of Walter and Cordelia Knott, was on hand for both ceremonies.  Craig Schulz, son of Peanuts creator, Charles Schulz, helped usher in Camp Snoopy.  Raffi Kaprelyan, vice president of Knott's, opened Camp Snoopy.  Garner Holt and Bill Butler appeared at ceremonies for the Calico Mine Ride.  These two ceremonies were entertaining and showed how historic Camp Snoopy and Calico Mine Ride are to Knott's and even California.
After each ceremony was time to go on the rides.  Camp Snoopy is mostly for the kids, so I was not able to experience most of the attractions there.  Having been on a few of the remaining, I can say that they are some of the most fun for kids.  I have fond memories of the Great Balloon Race and Huff and Puff rides.  The attraction I did ride was Grand Sierra Railroad.  Added to this ride were various scenes with Peanuts characters.  Having Snoopy, Charlie Brown, and the gang made this a more immersive attraction.  It was great to hear Linus' narration and see some great sights along the route.
Along with Grand Sierra Railroad, other improvements included touch ups like re-surfacing and fresh landscape, paint on Sierra Sidewinder, and a shade over the Camp Snoopy theater.  New additions came in, too.  Linus Launcher replaced the Speedway.  GR8 SK8 was removed to make way for a great new character meet and greet.  A play area with a fun Peanuts character stone structure and gazebo was installed.  Pig Pen's Mud Buddies came in to replace Log Peeler.  Charlie Brown's Kite Flyer replaced Snoopy's Bounce.  Lucy's Tugboat was rethemed as Rapid River Run and Rocky Mountain Trucking Company's vehicles were rethemed as well.  In all, it makes it more of a cohesive camp theme.  I enjoyed seeing the Kite Flyer's zoetrope above riders.  The character meet and greet looked like guests could step into the Peanuts cartoons.  In all, this is a family playground full of fun and innovative rides!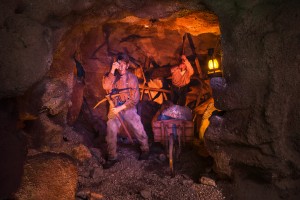 Calico Mine Ride was redone by Garner Holt Productions.  Originally done by Hulburt Co. Attractions, this ride was refreshed with new animatronics and scene elements.  It still kept its original tone and humor, and especially not varying the concept of the original ride.  Calico is one of my favorite attractions ever.  Just ever.  It's always been something I remember riding on in my childhood and I have ridden it every time I visit the park, with the exception of the recent closure.  This was the ride in all its grandness!  It felt like the old one, but in a way that it should have always been.  The animatronics were actually impressive for me.  The new lighting made this cavern come to life.  And the ending caught me by surprise to enjoy the attraction.  I rode it twice during this whole time!
Additions to the ride include new wildlife animatronics, something that was never in the ride before.  I liked the canary in a cage, which is a historical reference to what miners would carry to warn them of air conditions.  A great bat cavern scene was added, as well as vultures, a donkey, a dog, and other animal animatronics.  In the revamp, characters now make reference to finding gold, which was never in the attraction before!  The 8 minute ride now features an updated script of onboard audio. I appreciated the great new sound system as it was sometimes hard to hear the narrator before.  There are different painted trains and a different narrator when ridden.  The character narration can even interact with animatronics on the ride.  One thing that has not changed is the "Heaven Room", except for a touch up with paint.
In addition to the two refreshes were two shows that were previewing for the summer season.  Boom Town was the first, which is set on stage across from Calico Mine.  A Cirque inspired show about striking it rich during the gold rush, this performance was breathtaking.  Over in the Boardwalk area of the park, in the Charles M Schulz theater is Snoopy Unleashed.  Here, skaters perform on ice around different themes that has Snoopy trying his hand in art, magic, and cooking.  It had some great pulse-pounding music and amazing ice skating acrobatics!  The scenes were all great to look at as well, like giant magic hats, and a huge light up stove.  It was a show not to be missed!
Knott's is an Orange County treasure and California landmark.  Seeing attractions come into a fresh, new take gave me goosebumps.  I have had a good time enjoying all these in my childhood, and am so glad that they can be enjoyed by families for more generations.  Camp Snoopy is even more a camp setting than before.  There was great care taken to explain a story and create elements that fit and give an immersive experience to the land.  Calico Mine Ride is truly an original, and there is still nothing like it today.  To have it enhanced in a way that makes it enjoyable to a more modern audience is just what it needed.  Not that it was bad before, but I think it is even more entertaining now, and even has a better story than it previously had.  The shows that were previewed make the time at the park be an even greater experience, and round it out to have to plan out time in the park.
All of this coupled with the previous shows and attractions make this a well-rounded vacation destination.  Summer will be great at Knott's Berry Farm!
Check back for videos coming within the next few days!  Below is also the press release for this summer at Knott's
And, until next time, have a marvelous day!
KNOTT'S BERRY FARM RE-OPENS TWO CLASSIC ATTRACTIONS,
THREE NEW ATTRACTIONS AND HARVESTS FRESH FAMILY FUN ALL SUMMER LONG
BUENA PARK, Calif.  (Summer 2014) – This summer Knott's Berry Farm, Southern California's premier theme park, proudly offers three new rides in a fresh Camp Snoopy, a fully refurbished theme park classic- the Calico Mine Ride, and exciting live entertainment the whole family can enjoy this summer season only.
As part of the celebration of 30 years of Camp Snoopy, Knott's has revitalized one of the most beloved children's areas ever created. The beautification of the six-acre nature wonderland now features extensive High Sierra theming, and the addition of three new exciting family rides: Charlie Brown's Kite Flyer, Pig Pen's Mud Buggies and Linus Launcher.
Additionally, the classic Calico Mine Ride, Knott's first major attraction and theme park industry icon, will re-open after undergoing a top-to-bottom refurbishment that began in early January. The renovated attraction will include dozens of new richly-detailed animatronic figures, state-of-the art lighting, audio, and all-new special effects.  Passengers will embark on the most immersive mining journeys the "Calico Mining Company" has ever offered.
Snoopy is back as the star of the summer hit, Snoopy…Unleashed! presented in the 2,100-seat Charles Schulz Theatre.   Snoopy is off his leash and ready for action – going where he wants to go, doing what he wants to do in a way that only Snoopy can. This spectacular ice skating production includes the Peanuts characters, professional ice skaters, elaborate sets and music that will have you singing along all summer long.
Guests won't want to miss the summer return of Boom Town where the Wild West, at the peak of the Gold Rush, becomes a Cirque performance that really strikes it rich. A cast of nine amazing acrobats brings to life what it was like to live in the small town of Calico in the 1860s. You'll be inspired to grab your picks and pans,hop in an ore cart and come along for the ride!
Camp-goers will love the summer debut of Charlie Brown's Happy Campers inside of the newly renovated Camp Snoopy Theatre that now includes a brand new refreshing shade structure. Charlie Brown, Lucy, Linus, their friend JT, and the world's most popular beagle, Snoopy will take the stage in a show that's sure to make an outdoorsman out of anybody!
Back by popular demand are the Citizens of Ghost Town!  Sherriff Jebediah Smith, Beau Regard the saloon owner, the delightful Sweet Adeline and others will again be roaming the streets of Ghost Town to make guests feel as if they have stepped back in time to the 1890s.
Live musical entertainment will be farm-wide from morning till night with live performances by Krazy Kirk & The Hillbillies!  From the deep country hills of Anaheim, these boys will have toes tappin', hands clappin' and gut's bustin' during the best darn musical comedy show ever performed at the historic Bird Cage Theatre. The ever-popular Big Fat Steve Band will have guests moving on the Boardwalk Midway with their combination of 60s, 70s and 80s pop music.  When summer night stars shine, the Boardwalk will transform into a dance party for all ages as Orange County's best mixer DJ HowLey mixes and spins the latest sizzling tracks, on select nights. To entertain guests while they dine al fresco the interactive country blue grass quartet, the Ghost Town Miners, will be returning to Spurs Restaurant.
Guests don't have to be experts at the cha-cha-cha to enjoy Salsa Dance Party in Fiesta Village, where everyone can to take to the floor with some of their favorite dance music to the tunes of a live Salsa band.
All of the summer entertainment is included with admission to Knott's Berry Farm, which also offers a full day of thrilling coasters and family fun rides, like the recently restored Timber Mountain Log Ride and the expanded Boardwalk area.  Knott's is open extended hours from 10am to 10pm during the summer, allowing guests extra time to take advantage of all of the limited-time offerings.
Knott's Soak City, located just across the street from Knott's Berry Farm, is ready for another fun-filled season now through September 14.  Cool off in Tidal Wave Bay or take a ride through Pacific Spin's 132-foot long tunnel. Guests can ride and slide all summer long at Knott's Berry Farm and Knott's Soak City with a Gold Season Pass for just 4 easy payments of $25.
For hours on the day you plan to visit call (714) 220-5200, or check the Knott' Berry Farm website at www.knotts.com; where you can also save time and money with Knott's online tickets and Season Passes. Join the festive conversation using the hashtag #KnottsSummer on the Knott's Facebook or Twitter page.