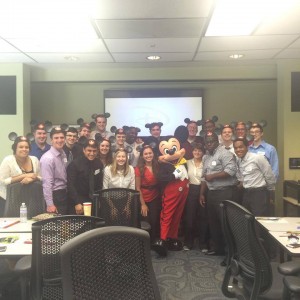 The arrival of the Disneyland All-American College Band is always the definitive indication that summer has arrived at the Disneyland Resort. This energetic group of musicians will be entertaining thousands of guests throughout the summer as they perform in both Disney California Adventure and also Disneyland. For the thousands that do get to hear (and see) them perform, hundreds of thousands miss this gem of the summer. For those who haven't taken the time to watch the Disneyland All-American College Band, here are ten reasons to take some time out of your day at Disneyland to rectify this oversight.
Awesome Music – This is a fairly obvious reason but consider this, throughout any given day the Disneyland All-American College Band will be performing jazz greats, favorite Disney and Pixar songs, patriotic music, and even some more popular hits (Earth, Wind & Fire, Michael Jackson, Stevie Wonder etc).
Introductions – The introductions of band members throughout the summer are…. let's say memorable. Each band member is given a moment to shine when their name is announced. These moments can be musical, humorous, geeky, or a combination of them all. They frequently generate laughter.
Dr. Ron McCurdy – An incredible jazz musician in his own right, Dr. Ron McCurdy also serves as

 professor of music in the Thornton School of Music at the University of Southern California. He also happens to the be the director of the band. He is a talented musician and entertainer that brings warmth to each set along with a jovial sense of humor. He also develops a strong rapport with the band and the guests who regularly watch it.

Choreography – It is one thing to watch a band play awesome music, it is something completely different to see them do it while dancing around in front of a castle.
Cowbell – There is a cowbell… Need I say more?
Three Little Pigs – Besides just playing music, there is storytelling involved in some of the music…and acting… and dancing… and pretending to be pigs…. or Mufasa… or Simba… or Scar… or… you get the idea.
They Sing – Yes, I've already mentioned the dancing, the acting, the goofy humor… but they also sing… sometimes even while doing choreography! Other times, there are vocal performances during jazz sets that are quite impressive.
The Stars and Stripes Forever – They play it and one of their own pulls out a piccolo and plays that awesome descant. Beyond that, it is always a touching part of their day that is full of heart and patriotism.
Passion – It is always fun to watch people with passion perform. The Disneyland All-American College Band is made up of the best college musicians from around the country who love what they are doing and it shows. It is also infectious. It is nearly impossible to watch them and not get caught up with the energy and music.
They Can Play – These band members are incredible musicians. They will perform awesome solos throughout the entire day, five days a week, and also still find times to rehearse. One prime example to look for: trumpet solo at the end of the day at the Main Street Station set.
If you have never seen the Disneyland All-American College Band before, this is summer to check them out. You won't regret it. Go watch them expecting to have a good time…and you will!
The Disneyland All-American College Band performs Tuesday – Saturday (starting June 19) at the following times and locations:
1:50 PM  Hollywood Backlot Stage
3:25  PM Castle/Main Street/ Train Station
5:10 PM Flag Retreat
6:00 PM  Pre-Parade
7:15 PM Train Station
This is the current set schedule for the summer. This is subject to change without notice. 
Here are a few memories from the 2013 Disneyland All-American College Band:
What reasons would you add to go watch the Disneyland All-American College Band?
2014 Disneyland All-American College Band Videos: