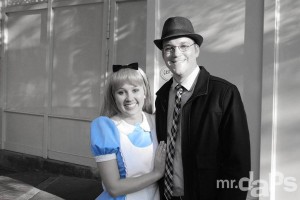 The Disney community has been buzzing the last 24 hours since the Disneyland Resort again raised prices. This happens pretty much every year in recent memory and really should have come as no surprise. Over the past 24 hours I have been talking to people both that have a range of opinions on the matter. After all these conversations, I thought I should share mine.
Normally on DAPs Magic News we generally do avoid opinion pieces but this seems like an appropriate time to set that rule aside. I hope you will keep an open mind as you read this and then share your thoughts below.
Quality or Quantity?
I have been an annual passholder for nearly two decades now. Through those years I have seen a lot happen and experienced many magical moments. One of my favorite memories is the "good old days" of walking around Disneyland on a Sunday night when the park was quiet and nearly empty. There was something special about those nights, extra magical if you will. Wait times were never a consideration when choosing to go on an attraction. In fact, the only things you really had to wait for was Fantasmic! or perhaps the fireworks. Cast Members always had a few extra minutes to invest in guests without feeling rushed to get the next person through the line. The line for coffee was never long before the 96 mile drive home.
As the years have gone by, Disneyland has become increasingly popular. The Disneyland Annual Passport has also become more popular. This has made for busier days with more people visiting Disneyland. I'm sure this is good for the bottom line at some level because it does lead to more food sales, more souvenir sales, more tour sales, more parking sales… you get the idea. However, as the demand of more people and the need for more services weighs down on both facilities of the Disneyland Resort and its Cast Members, quality can end up suffering. As more people pour through the gates, lines get longer for everything, wait times increase for everything, and the wear and tear on Disneyland and Disney California Adventure gets worse. Quite often the Cast Members also suffer from this wear and tear. To sum it all up: quality suffers.
The question in my mind then becomes, would I rather have a more affordable experience that suffers in quality or pay more for an experience that is unmatched in quality? The answer for me is a no brainer, I want the quality. Quality is something Walt Disney hoped would continue on after he was gone. It was something that Walt Disney always stood by and fought for. But quality costs money. Quality costs resources. Quality also takes a dedication to doing what is right and not always what is the most popular.
I would like to believe that by raising prices and capping how many annual passes are sold (potentially at any level), this will help the Disneyland Resort combat the issues I mentioned and maintain a gold standard of quality.
Supply and Demand
Clearly raising the price hasn't done enough to cap how many people visit the Disneyland Resort. Anyone who visits regularly can easily recognize that there are a lot of people still visiting. The demand to visit Disneyland continues to exceed the supply.  In my mind, putting a cap on the amount of annual passes being sold becomes the next logical (albeit undesirable) step and a compromise that is far more desirable than the alternative.
The alternative to capping how many annual passes are sold is to continue to raise the prices until it really does discourage enough people from coming and attendance is controlled. This would clearly price out a lot of families and is not what is wanted. I would venture a guess that a much steeper price increase would still sell annual passes but also discourage many families from visiting. By capping how many annual passes are sold, Disney is able to slow down the rate of price increase and still allow families to visit the Disneyland Resort. As long as there is a value to what is being paid for, people will continue to visit the Disneyland Resort. Walt Disney always wanted Disneyland to be a place where families could go together. I believe that this is an effort to preserve Walt Disney's dream for Disneyland. Yes, it will be more difficult for families but hopefully it won't be impossible.