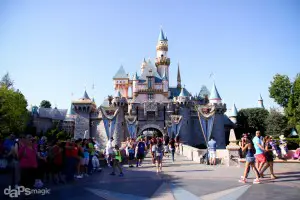 When people recount a trip to Disneyland they usually have plenty to say about their favorite rides, restaurants, and shows, yet very little love is given to the one activity that takes up more time than any other. Why is there no love for standing in line?
Admit it, no matter how many fast-passes you and your buddies are able to finagle in a given day, you will eventually find yourself wedged between strangers, lots and lots of strangers. This is simply part and parcel of the Disneyland experience. One gets to rub elbows (and unfortunately other body parts at times) with the "great unknown." It's both fun and educational! Ok, so maybe it's not particularly educational, but even labyrinthine lines can become an enjoyable memory for you once those around become more than just strangers.
Meeting people while standing in line creates fun coincidences and interesting conversations.
Meeting people while standing in line creates fun coincidences and interesting conversations. Now I'll be the first to admit I haven't won any medals for pulling strangers out of their shells. It's not that I'm unfriendly; I just tend to feel a mite distrustful of people. I mean the happy vacationer who stands in front of you could very well be the same one who cut you off on the freeway, or worse, be the telemarketer who has ruined every family meal you've tried to enjoy in the last year. But somehow Disneyland manages to erase the strangeness of strangers even for one as wary as me.
Disneyland is a place where people can shed outside angst and live in a world that is friendlier. If you start chatting with someone in line, chances are you'll have immediate company for the rest of the wait. You may even discover that the world is a smaller place than you thought (don't worry, I won't start singing the song).
On my graduation trip to Disneyland, my friend and I discovered that the man ahead of us had interviewed to be a science professor at our college a month before. As we waited to board "Soaring Over California," we talked about our alma mater and heard his first impressions of the place we had called home for four years. It was a pleasant way to pass the time and it gave him a chance to hear a student's perspective on things while considering the job.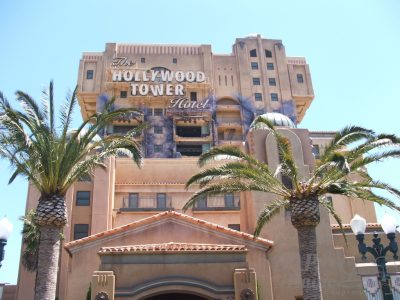 It was on that same trip that I met some die-hard "Tower of Terror" fans. These two loud and enthusiastic boys had already been riding the elevator for several hours by the time my friend and I ended up in front of them. They were hard to ignore. As my friend and I tried to chat, their voices kept snatching our attention. I decided we needed to meet the two after hearing them tell people in line that the attraction "Who Wants to Be a Millionaire" had been turned into a roller coaster-style ride (As a side note, I would love to hear how something like that could be accomplished). How could I miss such a golden opportunity for absurdness? We struck up a conversation with them and found they were full of information (most of it hilariously untrue) about every aspect of Disneyland. Listening to them made the wait go by very quickly. The boys also told us the secret to floating quarters while riding the Tower of Terror and even shared their change with us once we had boarded so we could be sure to give it a go. Who would have thought that gravity could be so much fun?
My main point in all of this is that Disneyland is full of lines, but lines are full of people. Have fun with them. You never know what kind of random diversion you might come up with. After all, not all of the magic in Disneyland happens on the rides. You might even find that you bring some Disney affability home with you. It may help to recite this: there is just one moon and one golden sun and a smile means friendship to everyone. (Ok, now I'm singing it, but it had to be said).
Source: Mica Cassidy